Our other visitors guides
Leura Guidebook
Leura Streetscapes & Landscapes
Share
Details
A day-trip or a weekend overnight to Wisemans Ferry offers a change of pace... even in September's chilly weather and before the summer crowds hit the winding road down into this charming village. Wisemans Ferry continues to be a hotspot among our travels - it ts our definition of a village. Miniature, sleepy, it's an easy-going village alongside Old Northern Road and ending at the water's edge - at the ferries. The Hawkesbury River is big and wide and abuts this village.
Regardless of age or profession, you can unwind and slow down. It's a family haven; it's a getaway for singles and couples. History buffs love the old Wisemans pub. Families love the park at the river. A museum. A gallery. Lawn bowls at the club. A restaurant with an upmarket menu. A burger at the kiosk and a quick trip across the river on the wonderful little ferries - who cares what the rest of the busy world is doing.
Start with a big breakfast and steaming hot coffe at Busby's in front of the fire. (Sat–Sun 8am to 4pm, Fri–Sat 9 am to 9pm) Busby's Café Restaurant is stylishly modern, fresh and spotless. The verandah looks out to the bush and mountains, and the delightful fireplace is perfect in cooler months.
By 10am the Ferry Artists Gallery opens exhibiting metal sculpture, glass and ceramics and beautiful textiles. The work of several painters is always on display. This is a charming and diverse petite gallery.
Take a ride on the Big Ferry and a short climb up the Great Old North Road -- a historic road with terrific signage. Our convict history is carved in sandstone here. The climb is strenuous, so take it slowly. Always carry water and wear a hat, no matter the weather! You will be shedding jackets before a halfway mark pictured below! Here you will perhaps turn back, head down the hill and back to your car for an early dinner at Wisemans Pub -- famous for its steaks and burgers.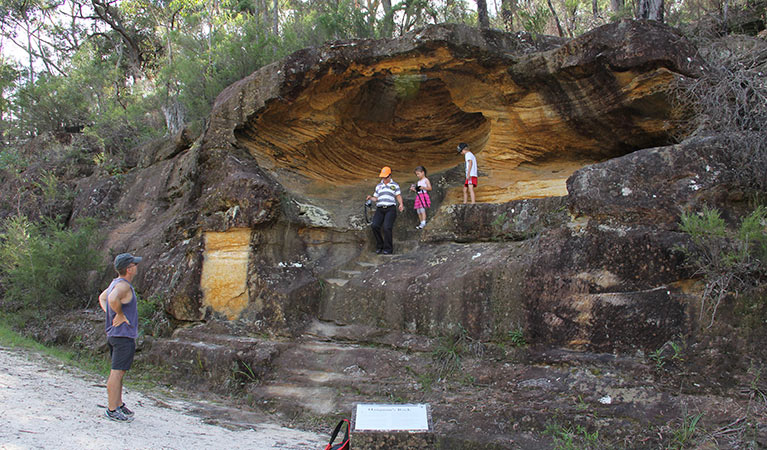 From the National Park website, A Sunday morning climb " Dharug National Park contains the Old Great North Road, one of 11 historic sites which form the Australian Convict Sites World Heritage property.
Wisemans Inn - more often referred to as 'the pub at Wisemans' – if an overnight is in your planning, Wisemans Inn has accommodation in the style of Solomon Wiseman's day. Rich wood antiques, drapes and new linens enhance each room. The rooms are reminiscent of a gentleman's country home of the 1800s.
In 2016, Wisemans Inn introduced a museum, Cobham Hall, on the first level. We were charmed by the authenticity and the artefacts on display. If you are as entranced as we are by life, architecture and construction from the 1800s you are in for a surprise - a pleasant one.
The Bistro serves up big meals -- purchase beer and beverages from the pub -- and claim a table in the large room. In cool weather, the huge fireplace is always a draw. If the day is mild, the patio tables fill quickly. Our experience: the service is prompt -- not much of a delay from kitchen to plate!
While you are in Wisemans before the crowds arrive, check out the campgrounds and riverfront accommodation for your summer fun. Rio Del Resort, Carinya and NSW Ski Park are easily found.
NSW Ski Gardens 2916 River Road
Kiosk open weekends
Set alongside the river, NSW Ski Park is only a kilometre from Wisemans Ferry Village and a short distance past the Webb Creek Ferry dock. This ski park is a popular spot for all the big races - you'll want book and to claim your camp site early.
The ski grounds are quite casual, with caravan and camping facilities in a rustic and shady setting–just steps from the river. Showers are located with group amenities. Dogs are welcome, but must be kept under strict control.
Picnic and barbecue facilities are onsite and a weekend kiosk serves hot items, soft drinks and ice-cream. The facility is popular with waterskiers, fishermen and those who want a budget-minded holiday on the river. We often see international travellers at the Ski Gardens. Hosts attempt to serve the needs of all their guests - they love their spot on the secret river and are happy to share it.
Write comment (0 Comments)
Details
2018 Sydney Water 'Brand without a Bottle' Competition
Again as in 2017, Sydney Water invited students in schools across Sydney to use their creative skills to persuade people to choose tap water over bottled water and help reduce plastic waste.
Hawkesbury High School is a finalist in the Sydney Water short film competition 'Brand without a Bottle'!
.
Hundreds of students met the challenge, joined the short film competition and submitted their very persuasive ideas. Students drafted ideas, wrote scripts and acted in the short films. In early August, professional film crews worked with the students bringing their ideas to life and the short films will be launched online for voting on 21st of August.
Now they need your vote. Head to http://bit.ly/brandwithoutabottle and go to the Gallery page to vote for your favourite from 21 Aug to 3 Sept 2018
Winners will be announced at a red carpet private screening 13 Sept and winning schools receive a water refill station and funds towards water-related learning resources.
A little background and information our Hawkesbury High students learned after entering Sydney Water Competition:
Australians bought over a million plastic water bottles in 2017? If this trend continues, we'll have purchased five billion plastic water bottles by 2040! The goal of the competition aims to reduce plastic waste and these creative students are using their talents to both learn and teach others about the over-use of plastic water bottles. Just get your head around five billion water bottles, if you can!
Hawkesbury High is among the finalists -- in other words, these students' efforts are 'short-listed'. The winning schools receive a water refill station and cash prizes towards water-related learning resources.Really quite exciting! They just need your vote!
They now need your support. Head to http://bit.ly/brandwithoutabottle Go to the Gallery page, vote and support our talented students from 21 Aug to 3 Sept.
Students with Film Crew
VOTING BEGINS 21 AUGUST.
Head to http://bit.ly/brandwithoutabottle Go to the Gallery page, vote and support our Hawkesbury Hight from 21 Aug to 3 Sept.
Write comment (0 Comments)